How to Relocate Analog/INS-Net Services (Telephone Services)
A guide to moving your telephone subscription to a new location.
Please apply as soon as your relocation is decided.

Apply early
Telephone installation is booked in advance. By applying early, you have a better chance of having the work carried out on the day of your choosing.
When moving, your line should be reconnected within one month of disconnection at your previous location. If more than one month passes and NTT West is unable to contact you, installation may no longer be possible, and the line will be suspended.
Where are you moving?
Customers moving to the NTT West service area as shown below may apply for a relocation of services through this site.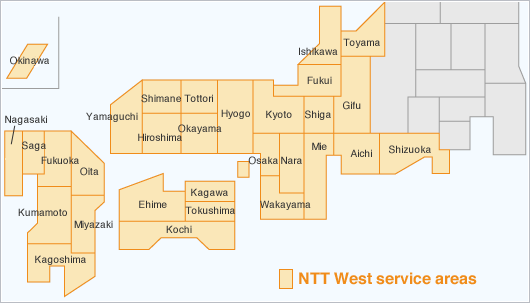 | | |
| --- | --- |
| Hokuriku | Toyama, Ishikawa, Fukui |
| Tokai | Gifu, Shizuoka, Aichi, Mie |
| Kinki | Shiga, Kyoto, Osaka, Hyogo, Nara, Wakayama |
| Chugoku | Tottori, Shimane, Okayama, Hiroshima, Yamaguchi |
| Shikoku | Tokushima, Kagawa, Ehime, Kochi |
| Kyushu | Fukuoka, Saga, Nagasaki, Kumamoto, Oita, Miyazaki, Kagoshima, Okinawa |
- The NTT West service area does not match prefectural boundaries. Note that part of Nagano Prefecture falls within the service area.
- Customers moving to a location outside the above area must apply to NTT East.
Please go to NTT East's Web116 page (in Japanese only).
New number announcement service
On request, NTT West can provide an announcement service to notify callers of your new number. This service is free of charge and lasts for about three months. Please request this service when applying for relocation.
Up to seven days simultaneous use
When changing your phone number, it is possible to have telephone service at both your old address and at your new address for up to seven days. Please request this service when applying for relocation.
Before you make an application/inquiry

- Please read and agree to our privacy policy.
- Inquiry/application forms are hosted on www.west-frc.com, a domain for order processing.