Reduction of Paper Resources
from Customer's Application up to Service Activation
Activation of services such as Hikari involves a large number of organizations within the NTT West Group. In addition to the transfer of order information among these organizations, a large quantity of paper is also used in the verification process and other tasks within each organization (about 6.73 million pieces of office paper were used monthly as at 2010).
In order to create value through our business operations, we strived to reduce the use of paper resources, while at the same time introduced a new system that forwards the order information automatically and electronically to the next organization among those within the NTT West Group that handle orders so as to enhance work efficiency in conjunction with the reduction in paper use and prevent the occurrence of security incidents. Additionally, we reviewed the workflow and implemented measures to save order details as electronic data instead of printing out in hard copy as in the past. These have led to a significant reduction in the number of facsimile transmissions and printed copies.
Our effort in the reduction of paper resources, which amounted to approximately 11.14 million pieces per year (928,000 pieces/month × 12 months), is equivalent to the conservation of approximately 400 pieces of wood pulp yearly*.
CO2 that is generated during paper production has also been reduced by 2.74 million t-CO2 per year. This is equivalent to the amount of CO2 that can be absorbed by about 18,000 Japanese cedar trees in a year.
We will contribute further to conservation of the global environment through efforts to reduce paper use by the troubleshooting team and other groups.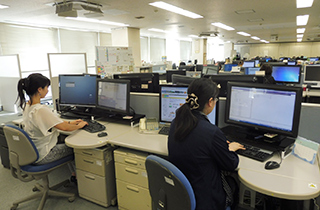 Reduction in Use of Office Paper for of Hikari Service Activation Process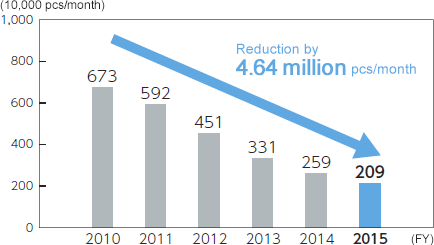 Voices of the Staff-in-charge


Contributing to conservation of the global environment through reduction of paper use

Though understanding the need to reduce paper use in order to protect the environment, many who are involved in the on-site operations have expressed their concerns about review of the deeply-rooted work process that makes use of paper.

In view of these concerns, we worked together with the branches to identify the issues through a preliminary trial, and were able to establish a work process that can be utilized by the staff at ease. Thanks to the efforts by the branch staff, the process took root successfully, which led to the reduction in the use of paper resources.

We hope to widen our future efforts to achieve further reduction in the use of paper resources.

Seiko Yamamoto, IT Innovation Department, Technology Innovation Division, NTT West