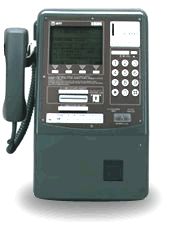 Screen Display
A screen display shows the number dialed, the remaining call units, coins, and/or time (when less than 3 minutes remain), an operating guide, volume level, etc.
On-Hook Button
When the on-hook button is pressed, calls can be dialed without lifting the receiver. You can start talking by lifting the receiver once your party answers.
Terminal Connection Port (only gray)
Permits calls and data transmission by connecting analog or digital terminals (ISDN terminals).
Data Communications(only gray model)
Volume Control Button
Allows for five-level volume control.
Data Communications Button
Switches between the public telephone and a connected terminal.
No-Display Button
Pressing this button prevents the called number from being shown on the display screen.
Display Switch Button
Pressing this button shifts the display between Japanese and English.
note:
* For services that do not require immediate charge payment such as Free Dial and calls to Dial 113, 119 and 110, connections can be made by simply dialing the number after hearing the dial tone. It is not necessary to insert a telephone card or deposit coins for such calls.
* Whether a "Data Communications" or "Switch" button is included and the "Functions" available differs according to the type of public telephone.