This service is only available to INS-Net 64 or INS-Net 64 Lite, INS-Net 1500 subscribers. A service offering Call Forwarding, Voice Mail and Call Waiting all in one.

| | |
| --- | --- |
| · | Calls can be forwarded to a specific number designated by subscriber. |
| · | If you receive a call you cannnot answer because you are either on the phone or not home. the caller will be transferred to the Magic Box Center where they can leave a message. |
| · | Can also be used as Call Waiting Service. |
| · | Use the Remote Control function from another phone (mobile phone, PHS or public phone etc.) to listen to your messages. activate/deactivate call forwarding etc. when you are not at home. |
| · | As long as the caller's number is displayed, the caller's number will be announced even if no message is left. |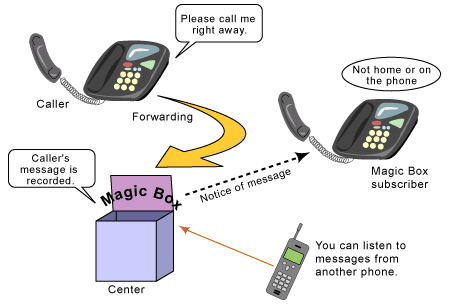 Service Conditions

INS Magic Box compatible equipment is necessary.

| | |
| --- | --- |
| · | Some Magic Box functions (INS Call Waiting, Call Waiting Notification) are not available with additional i · Number or DID numbers. All services are available if applied for under the subscriber number. |
| · | INS Magic Box may not function properly when used in conjunction with Flex Phone (except INS Call Waiting). Charges Notification and Multi-Line Hunt Service. |
| · | INS Magic Box may not be available depending on your existing telephone equipment or hte setting may need to be changed. |
| · | Not available with INS Call Forwarding Service (Voice Warp). INS Call Forwarding Select Service (Voice Warp Select). INS Call Waiting or Information Notification Rejection Service. |

Charges

No installation charge applies.

Monthly charge
Residential: ¥800 (¥840 tax included) /per number
Business: ¥1,100 (¥1,155 tax included) /per number